Bienvenido a RS Caribbean…
your access to a network of worldwide quality suppliers and experts in environment, health, trade and small infrastructure in the Caribbean region.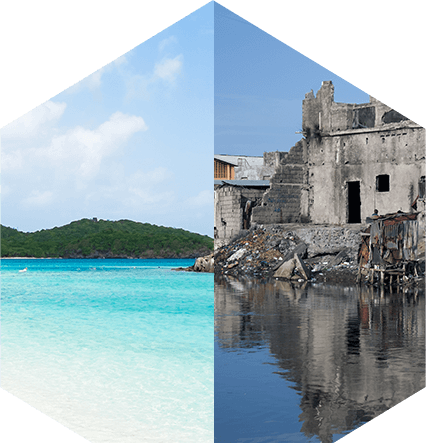 Bridging the Caribbean
to worldwide development expertise and environmental cutting edge technologies
RS Caribbean Network derives from the Synexport Project
Logo Europe
"Synexport" est cofinancé par l'Union Européenne.
L'Europe s'engage en Martinique avec le FEDER.
Gestión de Residuos y Saneamiento
Turn Key Supply of Equipment
In addition to the cutting edge technology equipment we supply in
various sectors
, we also provide project management services related to said supplies, including but not limited to : shipping, logistics, heavy equipment handling, construction activities, installation, training of the personnel, etc.
Cooperation Project Management
Co-development initiatives implemented jointly by two or more public or private entities from different countries (including French overseas territories), usually co-funded by International donors.
Consultancy services:
International trade development between Caribbean countries (including French overseas territories), including but not limited to EPA (European Patrnership Agreement) related initiatives.

Private sector, SMEs (Small and Medium size Enterprises) training programs

Public sector capacity building
Technical expertise
Waste Management

Infection Control

Renewable Energy & Energy Efficiency

Emergency Preparedness

Resilient Construction

Standards Implementation and Control

Sea and Fisheries Resource Assessment & Management

Environmental Impact Assessment

Refrigerating engineering
Other Services
Medical travel programs

Bundled product sourcing from Asia
The Caribbean countries in which RS has an agent :
Martinique, Trinidad, Jamaica, Dominican Republic, Haiti and Guyana
Únete a nosotros
JOIN US
WHAT DO YOU WANT TO DO ?
We at RS Caribbean strongly believe "Unity is Strength".
Therefore, besides our expertise (in Project Management and Turn key supplies in the Caribbean), our best asset is our extensive network of industry leader partners handpicked over the years for their reliability.
Join us too, if you are interesting in contributing to Caribbean sustainable and resilient development, you value customer centricity as much as we do, and you can offer the best quality standards in one of the following activities:
SUPPLY OF EQUIPMENT, MATERIAL AND EXPERTISE
Although we already have a solid network of suppliers we are constantly looking for more innovative and most adapted
solutions for the Caribbean development encompassing, but not limited to the following sectors:
Waste Management and Sanitation, Water Treatment, Infection Control, Emergency Preparedness, Renewable Energies.
BUSINESS DEVELOPMENT IN YOUR COUNTRY
We can assist and bring solutions to quite a number of issues faced by Caribbean developing countries. We need more people on the ground in order to help us identify the needs wherever they are and come with a timely solution.
SUBCONTRACTING SUPPLIES AND SERVICES IN YOUR COUNTRY
In order to implement successfully our projects, we rely on valuable local subcontractors in a wide range of sectors
including but not limited to:
Logistics, Freight forwarding, Customs Brokerage, Handling Rental and related services, Construction, Civil Engineering, Maintenance, Renewable Energies, Power Generator, Insurance, etc.
NGO PARTNER
NGOs (Non‐Governmental organization) play a tremendous role in assisting and accompanying numerous countries in their development all over the World, including in the Caribbean. They identify the needs and initiate and execute projects towards aiming at bringing the required answers.
However, they do not necessary have the adequate technical solution. We can be a technical partner for your NGO and help you to implement your projects successfully.
FUND RAISING
Money is the sinews of War! And the battle the Caribbean has embraced for its sustainable and resilient development is no exception to the rule. Many project addressing crucial challenges faced by Caribbean countries are yet to be funded.
Your experience in fund raising is important to us.
PROJECT MANAGEMENT
Implementation quality is key to Success! We never underestimate the means, planning and coordination required to implement our projects. Project Management is our core business, however we permanently look for new talent looking towards the same direction with us.
OPORTUNIDADES
RS CARIBBEAN has selected below a number of web links granting access to some of the most useful websites displaying business development opportunities in the Caribbean:
World Bank Group
WORKING FOR A WOLRD
FREE OF POVERTY
Project & Programs for the Caribbean region
Project & Programs specific
to the OECS
IDB
IMPROVING LIVES
Procurement Notices for Latin America & the Caribbean
UE
DEVELOPMENT & COOPERATION
EuropAid - Calls for proposals Procurement notices
Caricom
CARIBBEAN COMMUNITY
CARICOM Secretariat's General Procurement notices
ECS
PROCUREMENT NOTICES
Organization of Eastern Garibbean States
RELIABLE SOLUTIONS CARIBBEAN
Habitation La Montagne
97250 Saint-Pierre
Martinique (FWI)
Martinique
+(596) 696 16 50 70
Trinidad & Tobago
+ 1 (868) 360 69 33
+ 1 (868) 688 11 05
St. Lucia
+1 (758) 518 45 11
Jamaica
+ 1 (876) 437 13 48
Haiti
+ (509) 346 346 00
France
+ (33) 6 95 59 90 29
USA
+ 1 (347) 606 28 08
E-mail : rsc@rscaribbean.com
Skype Skype : regine.sc
WhatsApp WhatsApp : +(596) 696 16 50 70
Viber Viber : +(596) 696 16 50 70